About
Here's how Terri McClernon became The Food Fairy.
---
"For me, a homestead in New York's Catskills was my Culinary Institute, and a simple Coleman stove was my chef's station.
"I was a 23-year-old late-blooming hippie. I spent seven years homesteading, building a house, raising our children, gardening, and spending as many as eight hours a day cooking. The land nurtured me, and I nurtured myself by taking advantage of it.
"When I moved to the Triangle in 1996, I appreciated all the area had to offer. And I looked around and saw people doing important and worthwhile things, but needing to be nourished and nurtured with healthy and home-cooked meals. So I've become a personal chef, which is almost like becoming part of the family.

"Now I get to make a difference in people's lives every day. I serve a main course of sunshine – with a side order of happiness!"
---
Meet Our Food Fairies
Amanda S. (NC)
Anna T. (NC)
Becket (NC) (She/Her)
Gwen (NC) (She/Her)
Julia M. (NC)
Karen F. (NC) (She/Her/They/Them)
Karin C. (NC)
Krystal R. (NC)
Leigh S. (NC)
Mei-Ling (NC) (She/Her)
Sydney (NC) (They/Them)
Whitney D. (NC)
"I couldn't be happier to have these wonderful fairies flying around kitchens all over the country!" ~Terri (She/Her)
Amanda S. ~ Serving Raleigh area, NC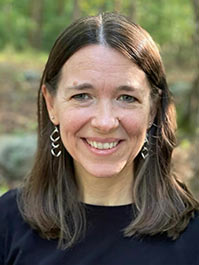 I learned to cook from my mother who made everything from scratch. Now, with my own family, I enjoy cooking, too. I like to try new recipes from other cooks and online resources. Over the years, my husband has come to enjoy vegetables that he thought he didn't like. I also cook because I think that family dinners are so important for healthy communication and healthy bodies.
I started working with the Food Fairy in 2014. My foster girls had left our house and my own girls were getting older. I love to help other families to be able to sit at night with each other and enjoy a yummy, healthy meal.
In addition to cooking, I enjoy spending time with my husband and three teenage daughters. As a family, we still foster kids for short breaks for their regular caregivers.

---
Anna T. ~ Serving Raleigh, Cary, Apex, Knightdale, Durham, Chapel Hill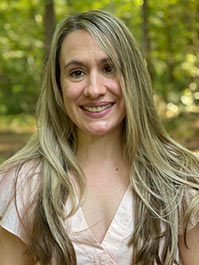 My food journey began while growing up in the piedmont region of North Carolina with a large garden that harvested everything imaginable. One of my earliest memories is of our front yard being taken over by pumpkins as if we lived in the midst of a magical pumpkin patch. I loved to eat raw spinach from the garden simply with grated parmesan cheese, olive oil and vinegar.
My first job was at a small diner when I was fifteen years old and for the past 25 years I have always had a job that revolved around food. When I was 21 and I moved to Raleigh, my passion for cooking really took off and I enrolled in culinary school at our local community college. During culinary school my passion for food and traveling began to merge. Throughout that time I developed an ever-expanding palate for a broad array of tastes and flavors.
I worked as a personal chef right out of culinary school, even while still working in restaurants, and it sparked my love of bringing healthy and delicious food into homes for busy families.
My love for cooking lead me to want to share this passion and so I began teaching as a Chef Instructor at Sur La Table in Durham in 2013. Within a year I was promoted to Resident Chef and ran the program as if it was my own restaurant while inspiring and delighting every customer! I reveled in my newfound ability to mentor other chefs in manifesting delicious food through their love of cooking.
After having my daughter in 2016 I decided that I wanted to work only part-time. I was contracted to develop recipes for a website which focused on health and wellness. I also began studying to be a health lifestyle coach and wellness advocate.
Currently I am working as a Chef Instructor part time and joining the Food Fairy to help others live a healthy & balanced lifestyle.

---
Becket (She/Her) ~ Bookkeeping Fairy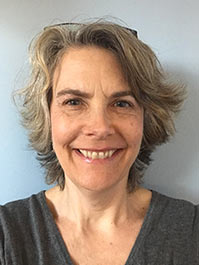 Besides keeping the books for The Food Fairy®, Becket is a voice-over artist as well as the owner of SoundTrax Recording Studios in Raleigh. In her free time, she likes to knit, often using yarn from unraveled sweaters recycled from the thrift store as well as cook, for after all she was a food fairy chef for almost a decade! She finds joy and ease in long walks, travel, doing crossword puzzles and hanging out with all her very handsome boys: husband, son and dog.
---
Gwen (She/Her) ~ Serving Chapel Hill, Carrboro, Pittsboro, Durham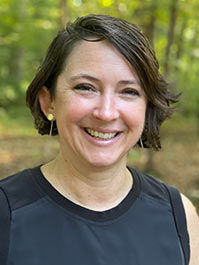 I was born and raised in Chapel Hill and studied Literature at UNCW. When I came home for my first summer, I got a job at Margaret's Cantina waiting tables. Right away I was exhilarated by the atmosphere, bustling vibe, the quirky people, the delicious food and aromas and the lifestyle.
After college I spent 10 months as a volunteer in AmeriCorps. With time to reflect on my true passions, I realized I really wanted a career in food. After AmeriCorps I fell in love with an old friend who shared my passion for good food. We decided that's what we make and eat great food together for the rest of our lives. We got engaged, moved to NYC where we both attended the French Culinary Institute in Soho. Our dream was to open a restaurant one day to maximize our specialties; I studied pastry and Michael studied savory.
Fast forward 17 years and here we are in Chapel Hill with a house and a yard, a crazy dog and 2 fantastic girls, Ruby Jane (14) and Winnie (12). Creating a family rather than a restaurant became our primary focus and we have no regrets. I've had chef jobs and fantastic experiences around Durham and Chapel Hill throughout these almost two decades. My job at the cooking school at A Southern Season allowed me to work with incredibly talented chefs from all over the world.
Although I've had the opportunity to be the pastry chef at some great local restaurants including Bin 54, Jujube and Mateo I know that the restaurant scene is not where I want to spend my time. I am thrilled at the opportunity to infuse love into people's kitchens and nurture folks that need it. I love families: yours and mine! I've seen how much joy and connection, laughter, and understanding we get from our family dinners, and I couldn't be happier to help that be a reality for others.
By the way, I practice what I preach when I say 'everything in moderation' —I love broccoli and potato chips equally! I believe that healthful, nutrient rich, real food makes for a happier, healthier life… and there's always room for dessert!

---
Scheduling Fairy ~ Julia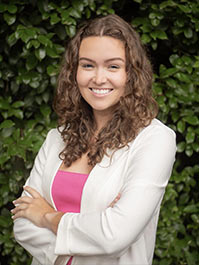 When she is not helping schedule important parties or daily-fare services for The Food Fairy® clients and chefs, Julia works full time in medical software sales. Outside of working two jobs she enjoys spending time with her two dogs and husband, exploring new areas in North Carolina, and traveling internationally with family. While espousing to not be much of a cook herself, Julia is an avid instant pot user and loves finding new restaurants to try!
---
Karen F. (She/Her/They/Them) ~ Serving the Charlotte Area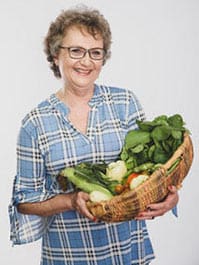 My food journey began as a small child as I often helped my mother, grandmother and aunt with meal preparation. When I had a family of my own to feed, I replaced most of the canned and processed ingredients that my mom used with fresh vegetables and home-made breads and desserts. 
My first big challenge came about when my daughter, then a toddler, developed asthma and a severe case of eczema. The cure for her was dietary with the removal of dairy, poultry, eggs, and tomatoes. The challenge was to adapt our family's favorite meals to meet her needs. I was amazed at the myriad of ways one can prepare tofu: burgers, lasagna, 'chicken-like' nuggets, even cheesecake all tasted great!
About ten years ago I faced my own health challenges and began cooking gluten-free vegan meals, again adapting traditional recipes from various ethnic origins. By the way, I do still cook traditional favorites the 'old fashion' way for those who wish.  I have recently expanded my audience beyond my front door and have joined the ranks of personal chefs who shop and cook for others. Being a personal chef with The Food Fairy gives me the opportunity to be creative and give the gift of nourishment to those who reach out to us.

---
Karin C. ~ Serving Chapel Hill, Carrboro & Durham, NC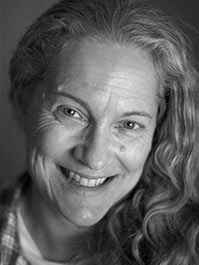 My food journey, (love for eating as well as cooking), began when I was young. I grew up in Petersburg, Alaska a town settled by Norwegians in the early 1900's. My mother subscribed to the adage that butter made everything better, one that any "true" Scandinavian will attest to! Every season brought a little something different to the table depending on what was readily available, salmon, Petersburg shrimp, halibut, blueberries, rhubarb and at Christmas a bounty of Scandinavian treats made with butter of course!
From the age of 12 till about 4 years ago I would periodically find myself agreeing to be crew on either my dad's purse seiner or my brother's boat. Many of those summer's I did double duty as cook, a job practically no one wanted! Creating good meals on a boat can be a challenge with bad weather, lack of sleep and only little slices of time available to prepare. Anyone can heat up a pot of beans and bake a salmon fillet, but cooking meals that bring up crew morale is a must!
When my husband and I moved to North Carolina to be near my oldest daughter and her family my food horizons expanded exponentially! Part time employment as a kitchen lead has offered a wealth of exposure to great chefs in the triangle area. I enjoy working with them, learning their particular techniques as well as standard procedures for baking and cooking great meals. I hope to continue to pass on some of these meals to my clients in my position as a Food Fairy as well. Many thanks to Terri for taking me on and helping me further along on my food journey!

---
Krystal R. ~ Chef Serving The Triangle and beyond, NC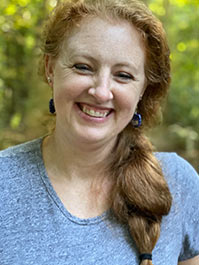 I worked with The Food Fairy from 2003 until 2008 when, still having young children, I left to work with them in a preschool setting. In 2013 with my three children, fully fledged elementary, middle and high school students, I flew back to The Food Fairy. Now I get to do what I love professionally–help families cope with their dietary needs and challenges by creating delicious meals that meet all their individual personal or medical food requirements. I enjoy working in any environment whether surrounded by children and pets or in a quiet home as long as I can share my gifts while nourishing your family!
When I am not a food fairy I spend the rest of my days as a wife and mom who loves to watch our children in their sports and arts activities and rejoice in their academic achievements. My husband and I enjoy dining out at a myriad of different ethnic restaurants and I am also an avid reader when time permits. I really love the challenge of trying out new recipes for my family that sound as though they could never work but know in my "food heart" they will be amazing and often they are! I take great pleasure in providing nourishing meals for my family and also for yours!
Krystal is unhesitatingly testing out a new recipe, Chocolate Covered Bacon on a Stick. Together with her teen son, Gavin, they created an easier version of this tempting food combination. Get the recipe here!
---
Leigh S. ~ Serving Chapel Hill, Carrboro, Durham, Raleigh, Pittsboro, NC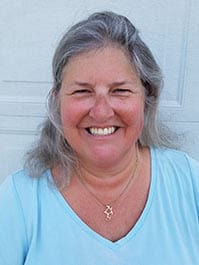 I grew up right down the road in Durham, NC, watching my mother cook from scratch every day and my father make our family's yogurt and granola every Saturday. Typical of many young people, I moved away from North Carolina and found satisfaction in other endeavors.
Years later, returning to my roots back in the Triangle, I gradually realized I loved being in the kitchen, cooking with love just as my family had shown me all throughout my childhood. Intent on following this passion, I began to attract cooking and catering jobs. I enjoyed a variety of jobs from farm lunches for 20 at Pickards Mountain Eco-Institute to preparing strictly macrobiotic meals for a family in Chapel Hill.
I also love baking almost anything sweet, and enjoy eating it as well! I find great pleasure and fulfillment menu-planning for events for some of my most creative moments are sparked by such needs. Also the creativity and desire to nurture and nourish are deeply fulfilled when preparing meals for people following diets for health concerns such as autoimmune diseases and other chronic conditions.
I live in Carrboro with my 16 year-old daughter and two cats. I am a voracious reader, and love traveling within the US, especially to national parks. My sister and I engage in a friendly contest to collect the most National Park stamps in our passbooks!
I am grateful to Terri, The Food Fairy, and every member of our sweet little company. I feel fortunate to be able to work with and meet so many warm, wonderful, and supportive chefs as well as clients every week.

---
Mei-Ling (She/Her) ~ Serving Raleigh, Cary, Apex, Knightdale, Durham
I have trained as a chef in a most unusual, yet profoundly wonderful and international way! First I attended culinary school in Scotland, where I worked in hotels. I was then fortunate enough to travel and cook my way around Australia and South East Asia, spending a lot of time in Thailand, my favorite place in the world ! Then I spend a significant amout of time where my family are from, Malaysia, I learned and ate all I could! What was next? South Africa, where I worked as a chef at the local Country Club. I ran a cookery school teaching locals to cook, guess what ? Asian food, my favorite!
The next stop on my adventures in culinary training was a few years working as a chef on private yachts. This was an amazing experience and I have many fabulous stories, culinary and otherwise to share ! This is also how I met my husband. After our first child was born we continued to work and travel around Europe. However, after our second child, it was finally time to settle down! I have taken a long pause from the working world to focus on raising our two sons, one of which I did not count on being a picky eater! So I have some less worldly experience in that department now, too.
Most recently I have been having a lot of fun helping my sister-in-law with her second cookbook, Double Awesome Chinese Food: Irresistible and Totally Achievable Recipes from Our Chinese-American Kitchen
All of this wonderful experience has now led me to The Food Fairy, where I am able to continue to follow my passion of feeding people.

---
Sydney (They/Them) ~ Serving Raleigh, Wake Forest, Durham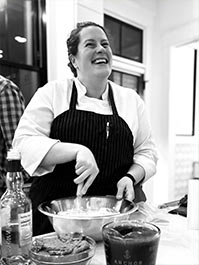 My passion for being in the kitchen started early: my mother is an accomplished baker. From a young age I learned to associate the making of food with expressions of love, and quickly figured out how to hold my own in the kitchen. I asked for an Easy Bake Oven for every birthday and Christmas from age 7 to 11, and never got one. My mother claims I could use the real oven and didn't need the toy one.
My love of cooking continued to grow. In college I would watch the Food Network until it switched to paid programming (around 4 am). I learned to cook from the greats: Emeril, Alton Brown, Giada, to name just a few. After college I did a brief stint in culinary school before I started working in a restaurant, and I haven't looked back since then.
I've been fortunate enough to work in some of the best restaurants in the mid-Atlantic, alongside enormously talented chefs. It was then I honed my skills and learned a ton of new techniques, from fermentation to molecular gastronomy.
It's my honor to bring my experience and knowledge to The Food Fairy®, both as manager of the new commercial kitchen and as chef, working directly with our clients providing them healthful, delicious, and nourishing meals tailored exclusively to their needs.

---
Whitney D. ~ Social Media Coordinator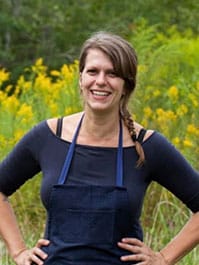 I am a dreamer, visionary and a culinary alchemist. A classically trained chef and herbalist, I was raised in the LA farm-to-table movement at the iconic Hollywood restaurant, AMMO, nurturing celebrities and other industry elite. After launching multiple restaurants in New York City, I decided to turn to the private kitchens of my high-profile clients for a time.
I desired to return to my roots in North Carolina and in doing so I have been working intimately with local herbalists, farmers, beekeepers, mycologists, foragers and other food industry philosophers. I strive to use my unique skill set to integrate these traditions and elevate our food consciousness on the whole.
Times, they are a changin'!
As I now choose to spend precious kitchen time preparing for and nourishing four hungry gentlemen in my family; husband Ben and my three sons – Jack and twin boys, Hugh and Cosmo, I am retiring from The Food Fairy's client's kitchens. I have a lot of experience with Instagram and as Terri has been in need of help in this arena, with covid-19 encouraging us to remain at home, I find this to be a perfect fit for my family and for me.

---