About
Here's how Terri McClernon became The Food Fairy.
---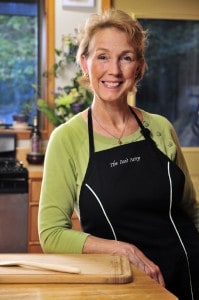 "For me, a homestead in New York's Catskills was my Culinary Institute, and a simple Coleman stove was my chef's station.
"I was a 23-year-old late-blooming hippie. I spent seven years homesteading, building a house, raising our children, gardening, and spending as many as eight hours a day cooking. The land nurtured me, and I nurtured myself by taking advantage of it.
"When I moved to the Triangle in 1996, I appreciated all the area had to offer. And I looked around and saw people doing important and worthwhile things, but needing to be nourished and nurtured with healthy and home-cooked meals. So I've become a personal chef, which is almost like becoming part of the family.

"Now I get to make a difference in people's lives every day. I serve a main course of sunshine – with a side order of happiness!"
---
Meet Our Food Fairies
Krystal Rosso-Feren (NC)
Becket Royce McGough (NC)
Krista P. Powell (NC)
Jan Coerper (NC)
Lynette Driver Jude (NC)
Karin Crippen (NC)
Julia McClernon (NC)
Amanda Stonehouse (NC)
Mari Trosclair (NC)
Audrey Janshego (NC)
"I couldn't be happier to have these wonderful fairies flying around kitchens all over the country!" ~Terri
Krystal Rosso-Feren ~ Serving The Triangle and beyond, NC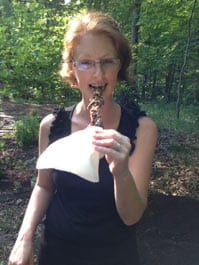 I worked with The Food Fairy from 2003 until 2008 when, still having young children, I left to work with them in a preschool setting. In 2013 with my three children, fully fledged elementary, middle and high school students, I flew back to The Food Fairy. Now I get to do what I love professionally–help families cope with their dietary needs and challenges by creating delicious meals that meet all their individual personal or medical food requirements. I enjoy working in any environment whether surrounded by children and pets or in a quiet home as long as I can share my gifts while nourishing your family!
When I am not a food fairy I spend the rest of my days as a wife and mom who loves to watch our children in their sports and arts activities and rejoice in their academic achievements. My husband and I enjoy dining out at a myriad of different ethnic restaurants and I am also an avid reader when time permits. I really love the challenge of trying out new recipes for my family that sound as though they could never work but know in my "food heart" they will be amazing and often they are! I take great pleasure in providing nourishing meals for my family and also for yours!
Krystal is unhesitatingly testing out a new recipe, Chocolate Covered Bacon on a Stick. ​​Together with her teen son, Gavin, ​they ​created​ an easier version of this tempting food combination. Get the recipe here!
---
Becket Royce McGough ~ Serving The Triangle and beyond, NC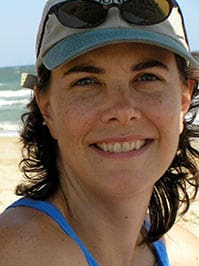 My first real memory of cooking was making cookies for my bus driver, Mr. Taconi, and beating the batter beyond submission. This was my introduction to the concept of "mix only until ingredients are blended." I remember my mother taking a bite and commenting "The poor man, he'll break a tooth."
Things have gotten considerably better since then. I've studied cooking at Peter Kump's in NY and Le Cordon Bleu in London. I owned The General Store Café in Pittsboro. I have worked in the kitchens of Miss Fork Catering (Reading, MA), The Open Kitchen (Weston, MA), The Catering Company and Windy Oaks Inn (both Chapel Hill) and, now, The Food Fairy. Terri took me under her wing (pun intended, I'm afraid) and gave me the skills I needed to be a personal chef. I worked almost full-time as a Food Fairy for nearly five years. Since 2013, I have focused more on my other career as a voice over artist by working in a recording studio and recording audio books. I have remained with The Food Fairy, however, as the Scheduling Fairy and part-time chef.
When I'm not cooking or recording, I'm running, listening to audio books, and spending as much time as possible with my husband and son.
I have remained with The Food Fairy, however, as the Scheduling Fairy and most recently I'm double winging it as bookkeeper as well!
---
Krista P. Powell ~ Serving the Triangle Area, NC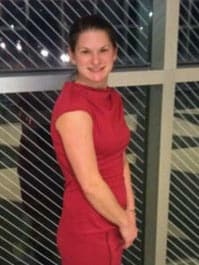 My appetite for food started when I was 14, with my first job at the local ice cream shop in my home town. I have been addicted ever since! I spent most of my "career" providing the service rather than the food itself; however, my love for cooking continued to mature and blossom through the years.
As I was always creating dishes and making dinner for my roommates and friends, after graduating from UNCW I decided to follow my passion for cooking and attend Johnson & Wales. Culinary school taught me many things, most importantly that I never wanted to work in a hot commercial kitchen 12 hours a day. My passion is in providing a more personal touch, by meeting the individual needs of individuals or families.
The Food Fairy came into my life as a gift, birthday that is, from my friends. It was a magical experience that stayed with me. An opportunity to work with Terri and earn my wings came around the end of 2014. Cooking is my language of love, my stress reliever, and my way to touch others' lives in a creatively positive manner. When I am not spreading magic in the kitchen…I am chasing my very lively toddler everywhere!! What joy and spice she brings to my life!! I…in turn, pass that light into the food I prepare for my clients. I have the best job in the world; I get to feed my clients and my soul while I do it. I can't wait to be able to add ease and sparkle to your meal times!
---
Jan Coerper ~ Serving Chapel Hill, Carrboro & Durham, Siler City, Pittsboro, NC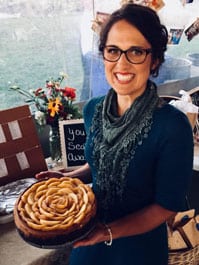 I started working for The Food Fairy in 2011 as an intern after completing the Natural Chef Course at Central Carolina Community College. Soon after I began cooking with The Food Fairy, I found I easily relaxed into this role of carefully and lovingly preparing food for people who needed our services. I didn't know at the time how powerfully this vocation would move me further into nurturing roles. In 2015, still cooking and also studying and exploring Waldorf philosophy & education, I found myself preparing to bring a new little life into this world, "mon petit chou", if you will. After all, cabbage is my most favorite vegetable!
I live in Pittsboro with my husband, Jeremy and our baby, Rosemary Willow.  In our free time, we like to hike, garden and play music together. We savor visits several times a year with our extended families in NY state and Virginia. 
My special culinary interest is cooking nourishing meals for expectant parents, breastfeeding moms and little ones just learning the pleasures of food and taste.
---
Lynette Driver Jude ~ Serving Chapel Hill, Raleigh, Apex, Durham, Pittsboro, Siler City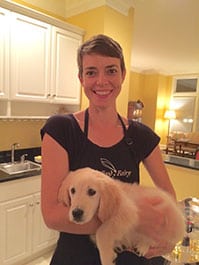 It all started as a kid in the back yard with mud pies. I had fun trying different "recipes," always finding new ingredients and techniques to try out. The end results may not have been edible, but they were made with care and delight.
I finally got serious about real food sometime after college when I started baking and cooking for friends. A farm internship in Washington State truly broadened my appreciation for food and where it comes from.  Then a stint at Columbia City Bakery (Seattle's best bread bakery!) refined my respect for quality and grounded me in my love for creating nourishment for others.
I love that food is so simple, yet so impactful. I love thinking of food as nourishment, and even medicine.  It is such a big part of our daily lives and I'm so pleased to be able to share it!
When I'm not cooking, I love keeping my hands dirty on friends' farms, exploring the woods with my pup, and going on adventures with my husband.
---
Karin Crippen ~ Serving Chapel Hill, Carrboro & Durham, NC
My food journey, (love for eating as well as cooking), began when I was young. I grew up in Petersburg, Alaska a town settled by Norwegians in the early 1900's. My mother subscribed to the adage that butter made everything better, one that any "true" Scandinavian will attest to! Every season brought a little something different to the table depending on what was readily available, salmon, Petersburg shrimp, halibut, blueberries, rhubarb and at Christmas a bounty of Scandinavian treats made with butter of course!
From the age of 12 till about 4 years ago I would periodically find myself agreeing to be crew on either my dad's purse seiner or my brother's boat. Many of those summer's I did double duty as cook, a job practically no one wanted! Creating good meals on a boat can be a challenge with bad weather, lack of sleep and only little slices of time available to prepare. Anyone can heat up a pot of beans and bake a salmon fillet, but cooking meals that bring up crew morale is a must!
When my husband and I moved to North Carolina to be near my oldest daughter and her family my food horizons expanded exponentially! Part time employment as a kitchen lead has offered a wealth of exposure to great chefs in the triangle area. I enjoy working with them, learning their particular techniques as well as standard procedures for baking and cooking great meals. I hope to continue to pass on some of these meals to my clients in my position as a Food Fairy as well. Many thanks to Terri for taking me on and helping me further along on my food journey!
---
Julia ~ Serving The Triangle and beyond, NC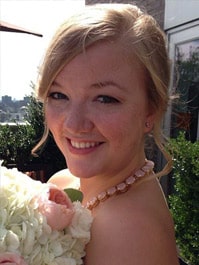 I have been cooking for as long as I can remember. My mother, Terri (The Food Fairy), began teaching me how to cook and bake when I was around three years old. I think there is a picture of me from that time standing on a chair making chocolate chip cookies. Most of my family also loves to cook, so our holiday family meals are generally prepared by the whole group. Some of my favorite memories have been spent in the kitchen. During the summers of late middle and high school, I worked sporadically for The Food Fairy–often waitressing at parties, or even doing food preparation and pattering. Once I went to college, I gained a reputation as the resident chef among my friends. I often made elaborate dinners for groups of friends because cooking is actually a way I manage stress. I could often be found "stress baking" near the end of each semester as exams drew closer. Shortly after graduating, I landed a good job in the corporate world. After three years, I realized that I was sacrificing my happiness in the pursuit of what I thought I needed to do to be "successful" by traditional standards. I was advised to find something that I would do for free and turn it into my employment. The answer came easily to me, but it still took another year to take the leap out of my corporate job and into The Food Fairy. I resumed working for The Food Fairy in February, 2016, and I've never had a career that fulfills me and nourishes me like this one. It's truly a joy to wake up each day and know that it isn't work if you love it!
---
Amanda Stonehouse ~ Serving Raleigh area, NC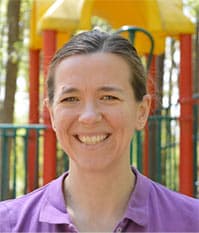 I learned to cook from my mother who made everything from scratch. Now, with my own family, I enjoy cooking, too. I like to try new recipes from other cooks and online resources. Over the years, my husband has come to enjoy vegetables that he thought he didn't like. I also cook because I think that family dinners are so important for healthy communication and healthy bodies.
I started working with the Food Fairy in 2014. My foster girls had left our house and my own girls were getting older. I love to help other families to be able to sit at night with each other and enjoy a yummy, healthy meal.
In addition to cooking, I enjoy spending time with my husband and three teenage daughters. As a family, we still foster kids for short breaks for their regular caregivers.
---
Mari Trosclair ~ Serving The Triangle Area, NC
I grew up in northern New Mexico and in the St Louis, Mo area. My grandmother cooked 'southern', my mother cooked 60's and 70's global and my father, who grew up on a Michigan farm, was a fabulous cook. Not a surprise I love to cook and have had several food businesses.
Cooking in Santa Fe, a short stint in Chicago and then working in a Carrboro restaurant, lead me to open a small café, LEGENDS, and catering firm, LEGENDARY AFFAIRS in Carrboro before moving to the NC coast where I had a café and part time catering business, BY WORD OF MOUTH CAFÉ AND CATERING.
For years I have worked in Real Estate, but miss working with food. Occasional parties for friends or with my local farm buddies was not enough, I am delighted to be able to create delicious, customized dishes with the Food Fairy.
Audrey Janshego ~ Serving Fuquay Varina, Apex, Cary and neighboring towns
As long as I can remember, I've always loved to cook and entertain. I remember spending many hours with my Mother, who was an excellent cook and hostess. I knew it was my passion but I didn't know how to make it my career and knew I had to get out from behind the computer. Thank goodness for my very dear friend Robin who sent me a Skype to check out the Food Fairy website. I knew instantly that's where I belonged and thank goodness Terri recognized it too!
It is so fulfilling to prepare meals that are wholesome for friends, family, those who don't know how to cook or those that just don't have the time. I totally believe in the saying "you are what you eat." Fast food and processed food do not a good diet make, and eating out all the time isn't healthy either. Can you say too much sugar, salt and fat!
I love testing new recipes on family and friends. Every so often I throw in a doozy side dish to see if I'll get honest feedback (I've taken the test…humor happens to be my strongest character strength.)
When I'm not in the kitchen, I enjoy gardening, reading, listening to music and spending as much time as possible with my husband and Ellie (our rescue dog).
I'm so grateful to Terri for giving me my wings so that I may follow my passion and share it with others!