Cook Once ~ Eat for Weeks
---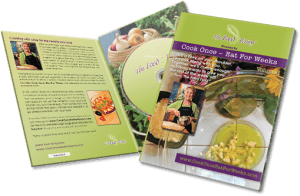 "I can now bring my years of personal chef experience right into your home! This is the first in a series of DVD's where I will be like a fairy on your shoulder, chopping, cooking and packaging along with you while you prepare delicious, nutritious meals for you and your family."
This DVD jacket is printed with non-toxic vegetable-based inks on stock that contains at least 10% post-consumer recycled content and comes from mills that procure materials from sustainably managed lands.
Cook Once ~ Eat for Weeks DVD Trailer:




Do you eat out too often? Find that your diet is unhealthy from eating on the run? Do you (or someone close to you) have a medical condition that makes it challenging or impossible to prepare healthy meals each night?
Imagine, after 90 minutes of cooking with The Food Fairy you will have created 8 servings of 3 different meals ready to eat or freeze for those more hectic nights. Here are some of the benefits you will reap after participating in this enchanting and fun-filled video…
Eight meat-based or vegetarian/vegan servings of –
Thai Sloppy Joes and Oven-Roasted Sugar Snaps
Turkey Meatloaf and Parmesan-Crusted Broccoli & Cauliflower
Chicken Enchiladas and Black Beans Veracruz
Hear, Smell, Touch and Taste fresh deliciousness
Valuable nutrition tips
Kitchen & cooking techniques & shortcuts
Fun, Knowledge, Experience, Laughter
Connect with your inner food fairy
Learn about substituting ingredients
Helpful hints for a "greener" kitchen
Earn your "fairy wings"
Bonus Fairy Note: There is a special DVD Members page (formerly found on www.CookOnceEatForWeeks.com) which has a web video on how to make a Chocolate Chess Pie quick as a wink!
For your convenience, this DVD will play from your Computer or Home DVD player but you can only open and print the necessary PDF's from your computer.
INCLUDED ARE:
Equipment check List
Grocery List
Grocery List Vegetarian/Vegan
Preliminary Food Preparation
Preliminary Food Preparation Vegetarian/Vegan
Recipes (10)
Re-heating Instructions
Re-heating Instructions Vegetarian/Vegan
Terri's Tips for Optimal Efficiency
Private access to Cook Once ~ Eat for Weeks DVD Members page
Get ready to have a great time and watch out for Fairy Dust!
Cook Once ~ Eat for Weeks DVD Promotional Video: